IAVI
For a leading medical research nonprofit, a new mission calls for a new brand direction.
How might IAVI's visual identity evolve in response?
The International AIDS Vaccine Initiative was founded in 1994 with the goal of coordinating public-private partnerships in the search for an HIV/AIDS vaccine. More than twenty-five years on, IAVI is still leading that fight, but the research capabilities and expertise the organization has developed lend themselves to tackling other pressing global health challenges, such as TB. Expanding IAVI's mission marked an ideal opportunity to reimagine their brand identity.
Please note that this is a conceptual project and not related to IAVI's current work.
Collaborators
—
Scope
Brand Development
Visual Identity
User Interface Design
Completed
Winter 2020
5 Weeks
1

Brand Framework
The expertise and capabilities IAVI has built on a global scale allow the organization to position itself as a leader in vaccine development. Doing so requires rethinking IAVI's mission and brand values as well as building an assertive visual identity.
IAVI's current logo marks an iteration upon the original identity. While simplifying the old mark is a welcome improvement, it references the organization's past without pointing towards the future. The proposed logo makes a clean break with IAVI's past in terms of form, opting for a customized geometric sans-serif that will stand out in the global health category. The brand's continuity is honored through the predominantly blue color scheme.

IAVI's broadened mission is encapsulated in the tagline: Translating science into global health impact. The tagline works alongside the wordmark to concisely convey the organization's goals. It can also serve as a compositional element in other applications. The full mission and vision statements serve to convey IAVI's commitment to developing life-saving technology in a communications context. In addition, IAVI's values establish the organization's place in the global health field.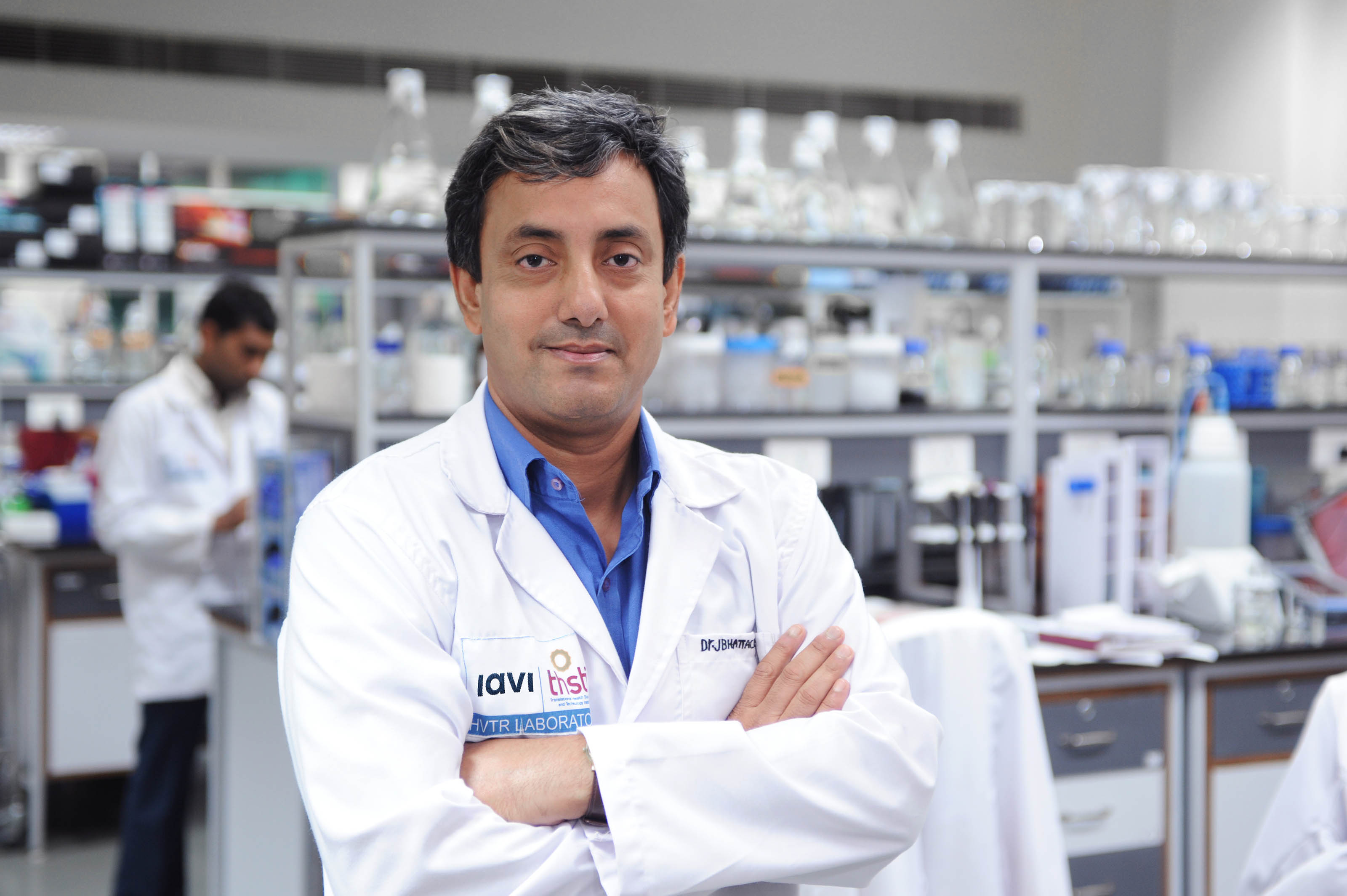 2

Visual Identity
Beyond the logo, the primary components of IAVI's identity are the type and color systems. The brand's typeface is Acumin Pro, a contemporary neo-grotesque chosen for its readability and practical attitude. The primary brand colors are navy and bright blue, which draw on the brand's legacy color scheme while increasing contrast to improve accessability when used together. The secondary colors are used for emphasis or in applications that call for multiple colors, such as charts and diagrams. Additional elements include an icon set and pattern system.
Establishing a visual system helps streamline the process of generating assets in line with IAVI's brand image. There are four components that go into brand assets: type, pattern, color, and imagery. Typography sits on top, followed by patterns generated by combining a dot grid with geometric symbols representing IAVI's areas of scientific expertise. Images can have either a standard or duotone treatment. Finally, neutral base colors contrast with emphasis colors from the secondary palette.
3

Online Presence
IAVI's webpage is not only the organization's primary touchpoint with clients, partners, and the public, but an important resource for relevant news on the latest science, fact sheets, and technical reports. The new webpage leverages the overhauled visual identity to create a design system that conveys IAVI's multifaceted work in an accessible and compelling manner on desktop and mobile. In addition, rethinking IAVI's web presence also includes the design of social media asset templates.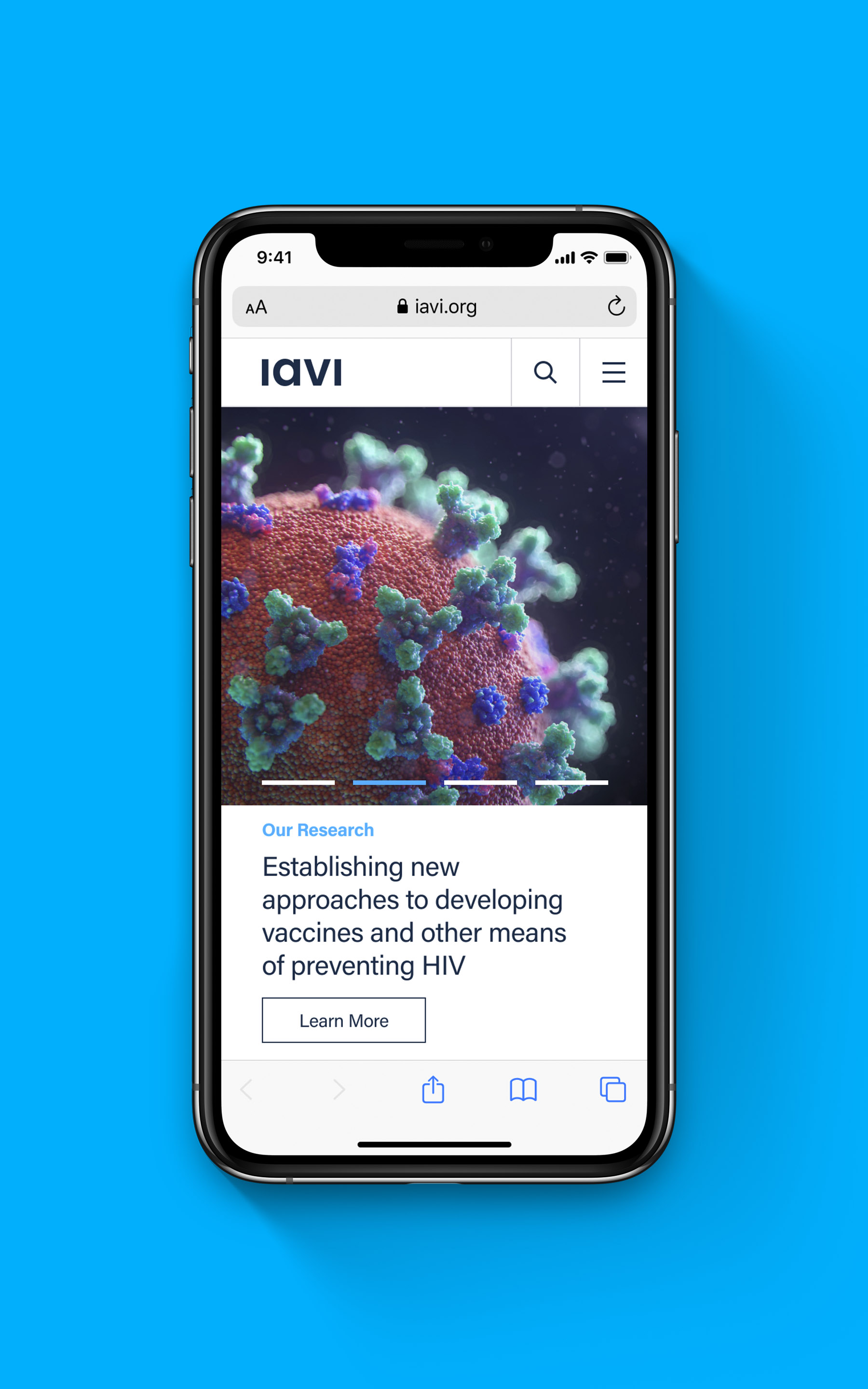 4

IAVI Report
IAVI Report is a quarterly publication primarily focused on the state of HIV vaccine research, although the expanding scope of IAVI's work has led to broader coverage of other globla health threats, such as emerging infectious diseases. The publication's audience is primarily made up of HIV vaccine researchers and other experts from around the world. I updated the IAVI Report wordmark, layout, and visual language to bring it in line with the new identity. I also established guidelines for charts, diagrams, and illustrations that draw on the IAVI color palette.
5

Applications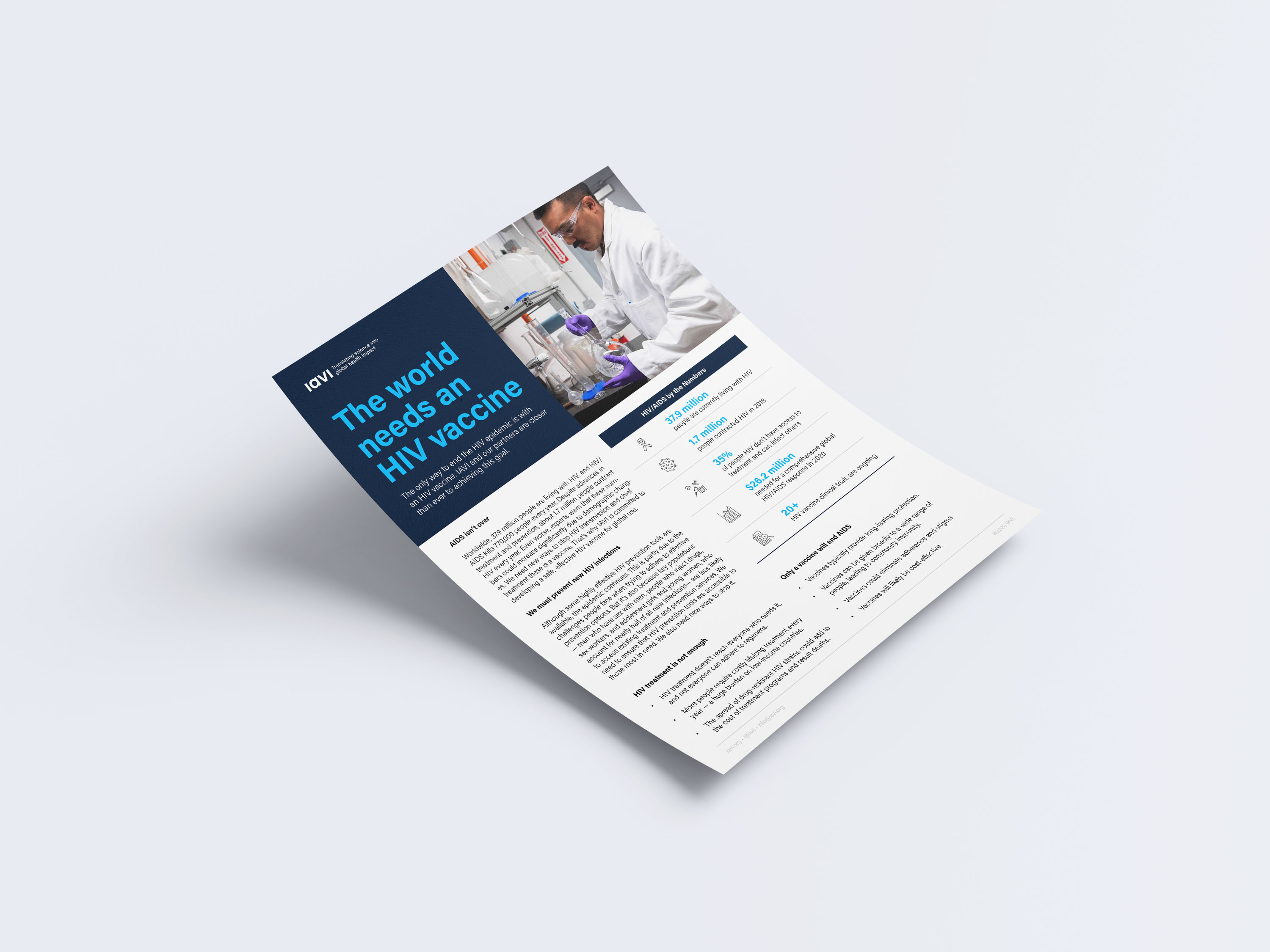 6

Reflection
The process of reimagining IAVI's brand and visual identity showed me the deep understanding required to undertake such an overhaul. Whereas creating an identity for a new company allows for more creative freedom, rebranding means learning about the legacy and culture of a full-fledged organization with passionate people. I was lucky to have that opportunity as a graphic designer at IAVI, and this it my attempt to do it justice.
More Projects
Next Project