Balsam

Problem Statement


The ability to express preferences is an essential part of workplace well-being.
How might an informal meeting table help promote office autonomy?
Collaborators
Victoria Peskin

Client
Hightower︎
Contribution
Design Research
Concept Development
Prototyping
Fabrication
Completed
Winter 2019
10 Weeks

Overview
Trends in office space design point to the increasing importance of employee well-being, both physical and psychological. According to current research, being able to express one's preferences is an essential element of workplace satisfaction. Balsam is an informal meeting table that aims to address this issue by adapting to user needs easily and effectively. This project was supported by
Hightower
, a Seattle-based furniture maker.
Client Brief
Hightower wanted to introduce an informal meeting table into their line, one that caters to "democratic decision making" rather than the more traditional "leader at the head of the table" style. They also wished to explore new geometries, materials, and power integrations.
Research
Our first step was to review the reports on current and upcoming trends in office design, which emphasize increasingly adaptive offices and a push for employee satisfaction. We also looked at the literature on workplace psychology. One finding that stood out was the important of personal choice on well-being. Increasing the degree of autonomy in the workplace can significantly impact productivity and enjoyment.
We also interviewed several office workers to learn about any pain points regarding meetings. One notable finding was that the majority of meeting time was perceived to be unproductive. What might we do to counteract this?
Market research revealed just how crowded the office table segment is. Style therefore becomes important as a key differentiator. The furniture a company chooses for its offices reveals how it sees itself and how it wants to be seen. In the case of Hightower, the feel is playful and laid-back, combining restrained Scandinavian geometry with the warmth of natural wood and color.
View my
research report︎
Design Objectives
︎ Adaptable

---
Our design should adapt to a range of workplace needs via multifunctionality

︎ Minimal

---
Clean and considered lines are hallmarks of the Hightower brand

︎ Collaborative

---
Our should foster creative team thinking by providing the tools with which to collaborate

︎ Mobile

---
Mobility is important to the office worker who doesn't have a set place

︎ Informal

---
Today's relaxed office settings need the right kind of furniture

︎ Reliable

---
New functionality is great, but our products still needs to perform its basic functions well
Ideation
I began exploring potential designs through sketching. These focused on standing-height solutions—as these have been shown to increase meeting engagement— effective cable management, and easy storage.
Pivot
Feedback from Hightower led us towards a folding table solution that would facilitate better table storage and mobility.
Final Concept
Our final proposal incorporated a unique upward-folding tabletop, allowing the table to be used as a whiteboard or pin-up board in a pinch.
Prototyping + Fabrication
Both full-size and small-scale prototypes helped us gain an understanding of how best to build a visual model of our table. Putting together the model involved learning not only how to build a table—which neither of us had attempted before—but how to make the tabletop in the style of a hollow-core door. Our goal was to save weight, given that each end had to swing upward.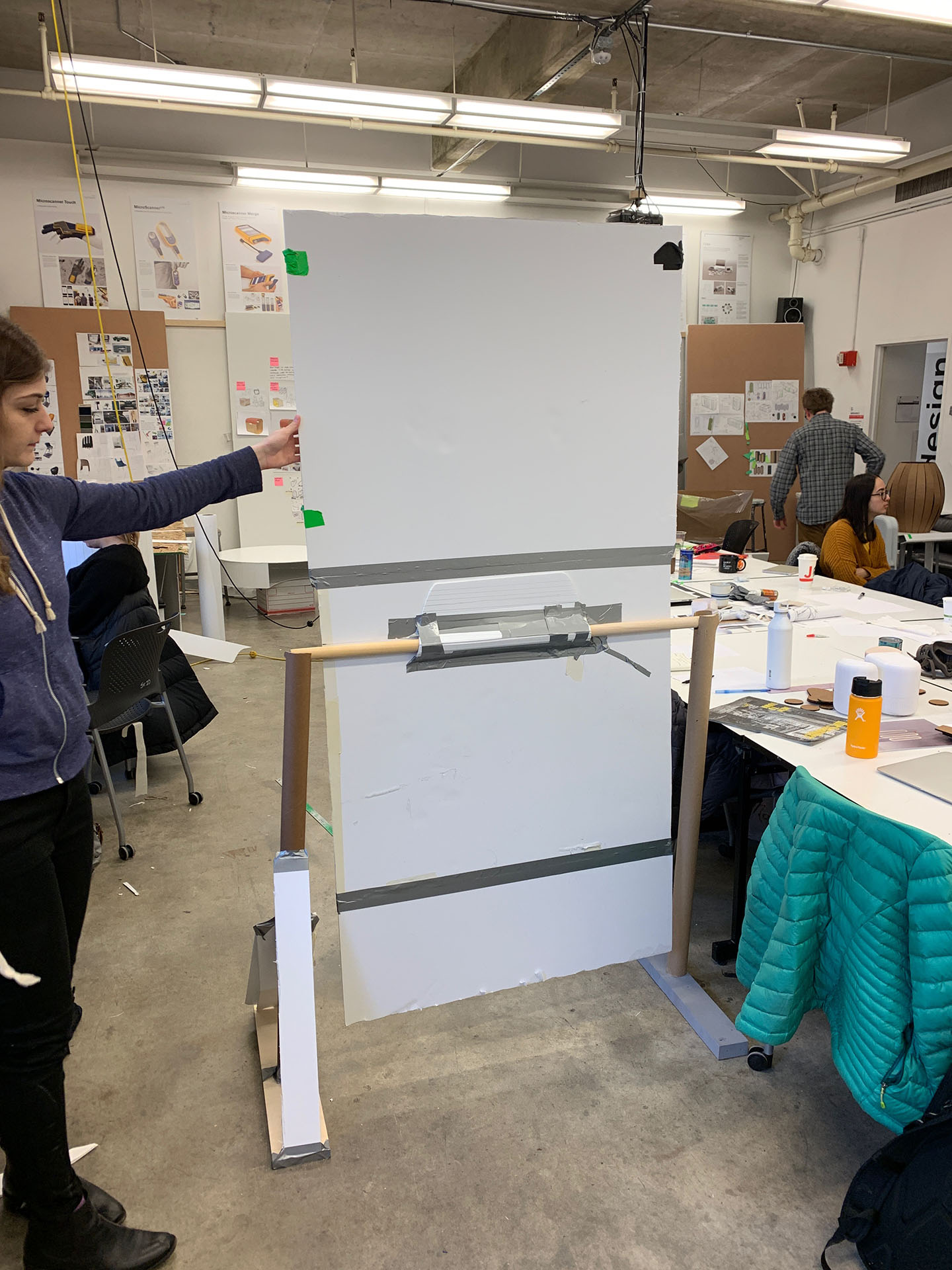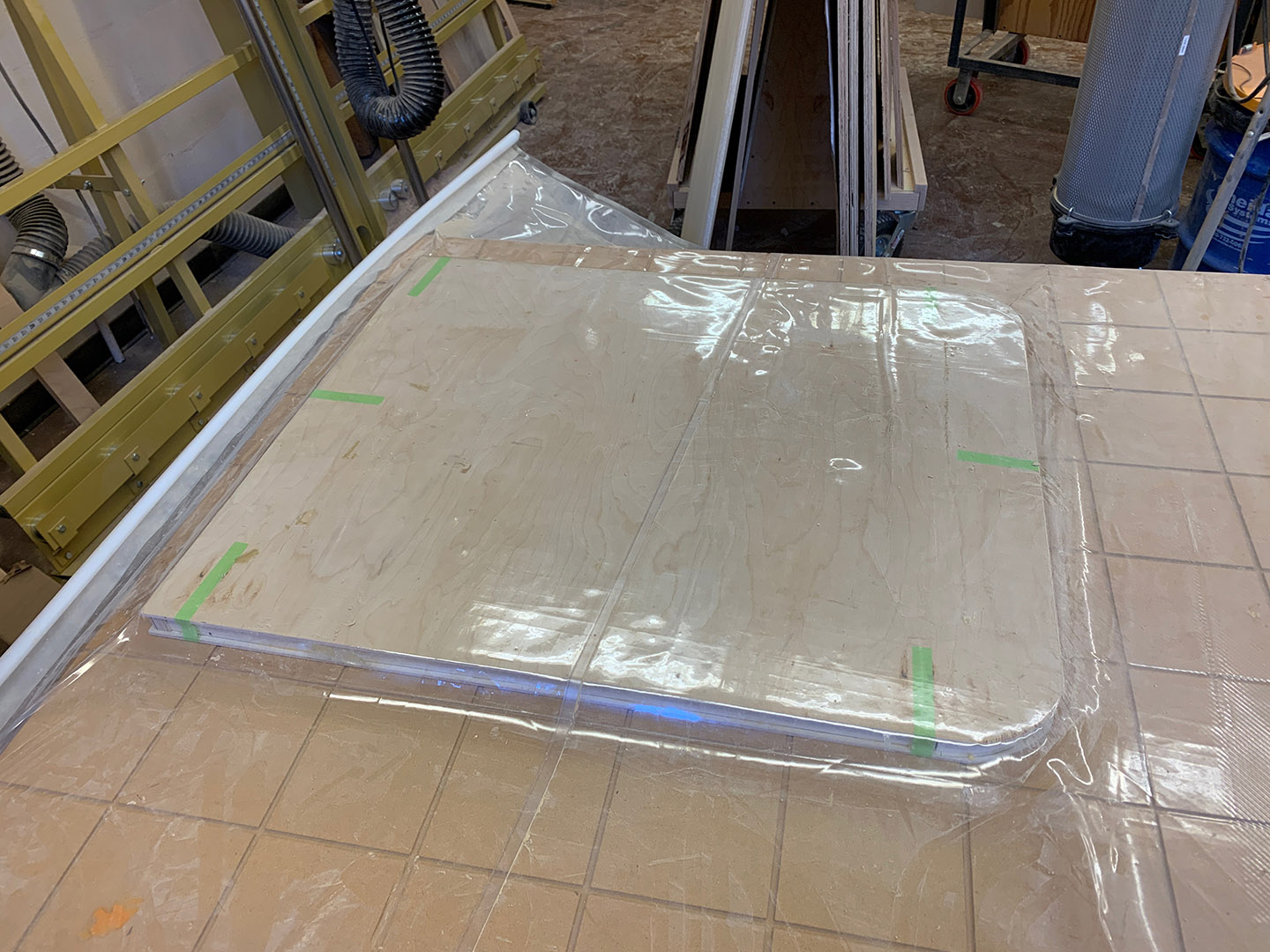 Introducing: Balsam
The Balsam table is a dynamic office workstation meant to adapt to a wide range of use cases, accommodating the flexibility that today's offices workers seek. The table incorporates hooks for storage and cable management, and casters for mobility. One unique feature of the Balsam table is the fact that both ends can be flipped up to reveal a pin-up board and a whiteboard. These elements facilitate on-the-spot team collaboration.
View our
final presentation︎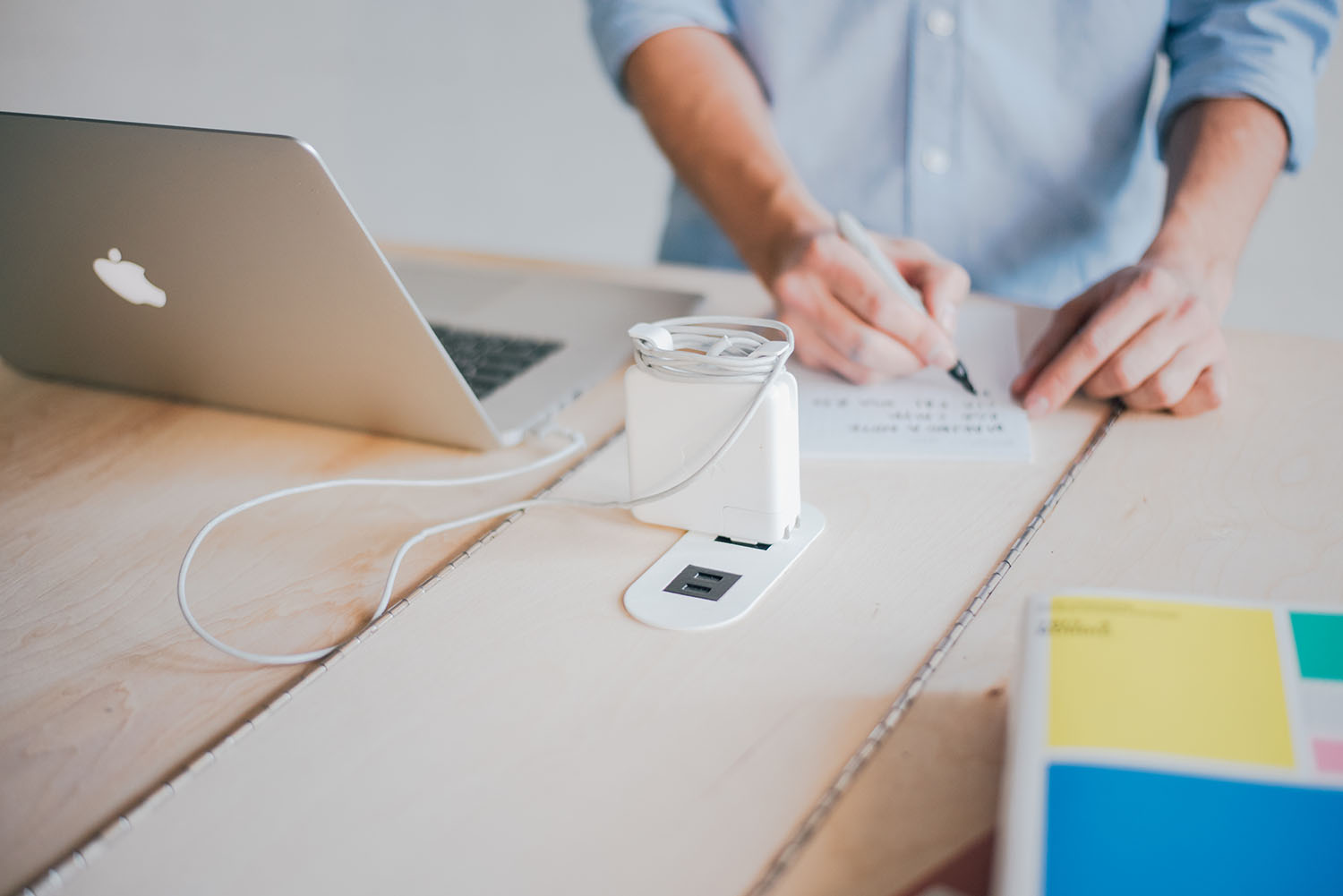 CMF
Balsam CMF draws on Hightower's existing materials and color palette in order to better integrate into the company's line without presenting supply chain and manufacturing challenges.
Reflection
Working with a professional client on a real-world brief presented a unique set of opportunities. I found the constraints of the brief helpful in guiding our design direction and appreciated the feedback and insight from designers and executives at Hightower. However, the necessity of building a physical model limited our final design to the capabilities of the school wood shop and prevented us from pushing Balsam as far as I would have liked.